GDP Filter presents special products of uniquely designed ultrafiltration membrane for producing clean or even drinking water without electricity. Very suitable for emergency cases and outdoor activities.
Our emergency equipments also will be suitable answers for your Corporate Social Responsibility programs by providing self-sustainable clean or drinking water production for rural areas.
Increasing water polution level by contaminants such as heavy metals, pathogens, bacteria, and viruses, demands higher technological level of water treatment. Slowly but sure, conventional treatments seem to lose their reliability. GDP Filter opted membrane technology for water treatment due to its high degree of separation.
GDP Filter proudly presents the IGW Emergency UF, which is combination of UF advantages with mobile and electricity-free features. IGW Emergency UF has proven ability of up to 99.99% removal of colloids, turbid agents, bacteria, and viruses, while preserving minerals, thus produces crystal-clear, hygiene, and most-fresh water.
Type

Portable Type

Standing Type

Capacity

200 ml/stroke

500 – 750 liter/hour

Product Turbidity

< 1 NTU

<1 NTU

Dimension*

L 62 x W 21 x H 10 cm

L 122 x L 28 x W 40 cm

Weight*

3 kg

20 kg

Benefits

High membrane surface area (over 1 m2 ) make it easier for water to be pumped
Can produce 2 L/minute of clean water in about 10 stroke per minute,
The lowest price filter in their class
Used to produce clean water from turbid water
Portable

Continuous high quality crystally clear and most fresh produced water
Enviromentally friendly

Simple and quick installation
Suitable for emergency

Long life and low fouling membrane

Operating Mode

Manual
IGW Emergency UF: Standing Type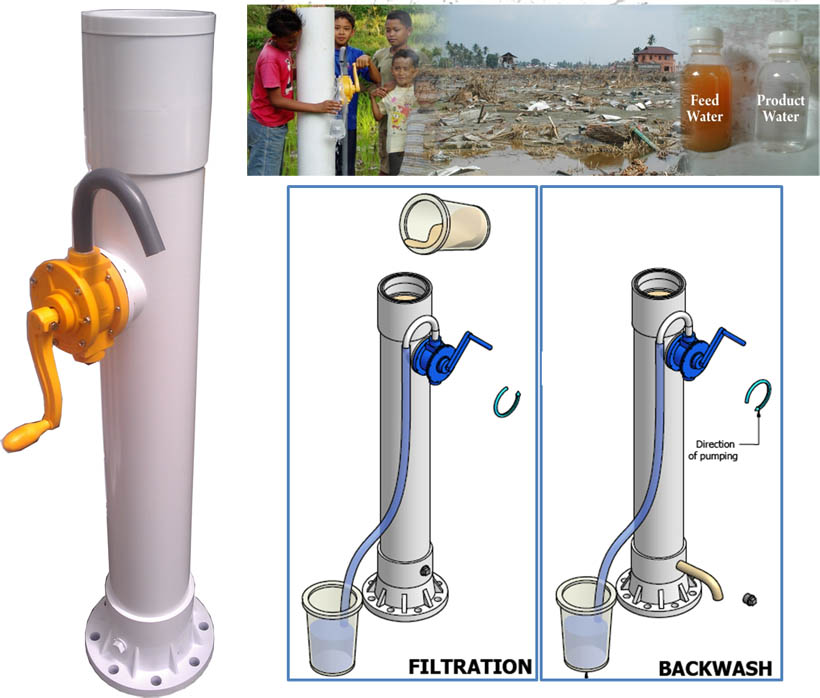 Emergency UF: Portable Type